Battle in the 'Burgh!™
Weekend of December 11/12, 2021
1 Day, In Person Event
Coming Soon
*Date Confirmation
*Pricing
*Venue Information
Registration: To register online for Battle in the 'Burgh!™, please click here!
Team Waiver: Please Click Here!
2020 Event Pricing:
$50 Per Athlete
$20 Crossover
$25 Individual
$50 Dance Duo
$50 Stunt Group
*To be Worlds Bid eligible, we require that you bring a minimum of 3 teams from your program.
Video Submission Guidelines:
Your video submission must be recorded within the timeframe of Tuesday, November 24th through Thursday, December 10th.
Video submissions are due no later than Thursday, December 10th at 9 pm.
You will receive a team code upon registration. This code will be used when introducing your team for your video submission.
Ex: Pittsburgh Panthers
Junior Pom
Code 15211
Video begins.
At the conclusion of your performance, please repeat your team name and division.
Please note, NO EDITING IS PERMITTED.
Procedures for uploading your video will be sent separately.
Upon receipt of your video submission, you will receive a confirmation.
Once your video has been reviewed for technical difficulties, you will receive a final confirmation.
Order of Performance:
Routines will be judged and streamed in reverse order of receipt of approved video submission.
Scoring System:
Routine Requirements:
Individual Group Requirements – Click Here
All teams may perform a maximum of 2.5 minutes (minimum of 2 minutes)
All Star Prep routines may be a maximum of 2 minutes
Score Sheet Distribution:
All score sheets will be emailed to the Head Coach.
Awards:
Grand Champions
Team Placement Awards
Team Leader Apparel Gift Certificates
Team Specialty Awards:
Best Pyramid Sequence, Tumbling Sequence, Most Original Dance,
Best Choreography Cheer/Dance
…and much, much more!
USASF Dance Worlds Bid Qualifier
Audience Viewing:
Information concerning streaming capabilities to follow!
Once again, this year at Battle in the Burgh…BIDS TO DANCE WORLDS!"
We will be offering 2 Partial Paid Bids along with 4 At Large Bids! Start your season off right and get your bid to Worlds from ELITE!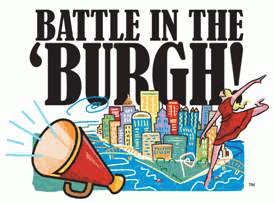 Elite Cheerleading Inc. is celebrating its 38th year! Elite began its competitions opening the Original Pennsylvania State Championships and in 2007 expanded its All Star competitions to include teams from other nearby states with the Battle in the 'Burgh ™ National Championships! Come join us this year and see why so many others are competing with Elite!!