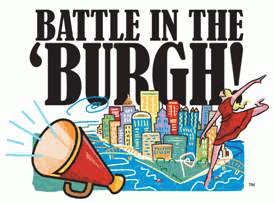 Check back for exciting details for Battle in the 'Burgh! National Championships
Elite Cheerleading Inc. is celebrating its 34th year! Elite began its competitions opening the Original Pennsylvania State Championships and in 2007 expanded its All Star competitions to include teams from other nearby states with the Battle in the 'Burgh ™ National Championships! Come join us this year and see why so many others are competing with Elite!!
NEW USASF Requirements for the 2015-2016 Season:
– Background Checks
– Warm up Room Requirements
Please follow the link below
Reminder: Image Policy Requirement
Please follow the link below
USASF Athletes Identification is required, Click Here
Coaches Professional Membership Required by USASF for the 2015-2016 season.  Click here to visit the USASF website to complete your registration today!
In 2016, we will be awarding 2 Partial Paid along with 3 At Large Dance Bids!  Start your season off right and get your bid to Worlds from ELITE!