Battle in the 'Burgh!™
Sunday, December 10th, 2023
UPMC EVENTS CENTER
at Robert Morris University
Free Spectator Parking
Registration: To register online for Battle in the 'Burgh!™, please click here!
2023 Event Pricing:
$70 Per Athlete
$20 Crossover
$50 Individual
$75 Dance Duo
$100 Stunt Group
Scoring System:
Routine Requirements:
Individual Group Requirements – Click Here
All teams may perform a maximum of 2.5 minutes (minimum of 2 minutes)
All Star Prep routines may be a maximum of 2 minutes
Awards:
Coaches/Participant Championship Gifts
Grand Champions
Team Placement Awards
Team Leader Apparel Gift Certificates
Team Specialty Awards:
Best Pyramid Sequence, Tumbling Sequence, Most Original Dance,
Best Choreography Cheer/Dance
…and much, much more!
USASF Dance Worlds Bid Qualifier
Once again, this year at Battle in the Burgh…BIDS TO DANCE WORLDS!"
We will be offering 2 Partial Paid Bids along with 4 At Large Bids! Start your season off right and get your bid to Worlds from ELITE!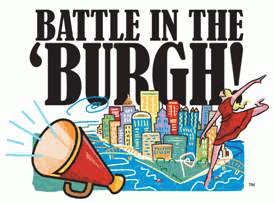 Elite Cheerleading Inc. is celebrating its 40th year! Elite began its competitions opening the Original Pennsylvania State Championships and in 2007 expanded its All Star competitions to include teams from other nearby states with the Battle in the 'Burgh ™ National Championships! Come join us this year and see why so many others are competing with Elite!!